Keisuke Kagami

Attributes

Age
26
Date of Birth (star sign)
August 20th (Leo)
Blood type
A
Height
178 cm
Weight
69 kg
Relatives
Tokiko Kagami (younger sister)
Hobbies/Interested in
kendo, exercise, reading
Not good at/with
housework
Japanese VA
Katsuyuki Konishi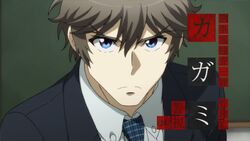 Spoiler warning!
If you don't watch for spoilers carefully, you'll have a hard time in the future.
Keisuke Kagami, known mostly by his last name (カガミ Kagami), is a supporting character in the anime Rampo Kitan: Game of Laplace. He was a Shinjuku Police Department investigator up until his arrest.
Appearance
Edit
Kagami is blonde haired and blue eyed, although it is not known whether it is due to a non-Japanese ancestry or an aesthetic change to distinguish him from other characters. He is normally seen in a black suit, black shoes and a tartan blue tie.
After his arrest, he wears standard prison garb and his hair diminishes.
Personality
Edit
He has a strong sense of justice and a serious personality. He loved his sister dearly.
In Edogawa's works
Edit
Kagami does not have any known counterpart in Edogawa's works.
References
Edit
Ad blocker interference detected!
Wikia is a free-to-use site that makes money from advertising. We have a modified experience for viewers using ad blockers

Wikia is not accessible if you've made further modifications. Remove the custom ad blocker rule(s) and the page will load as expected.